Staying on Top of Home Maintenance
We all know the importance of regular maintenance to our homes, but sometimes life simply gets in the way of that. Whether it's cleaning the gutters, changing the furnace filter, cleaning the refrigerator coils, raking leaves or taking care of your hose spigot, it takes a lot of work to maintain a home.
How do you remember what needs to be done?
We have a helpful checklist to help you keep track of your home maintenance. Whether it's your first home or you've lived there for some time, a home maintenance checklist just might help keep you organized.
Simply download and print off the monthly maintenance "to do list". Keep it in a place where you can regularly check it and stay on top of your maintenance requirements. When you finish a project you can check it off the list and feel a sense of accomplishment as a home owner.
What is the benefit to having a monthly plan?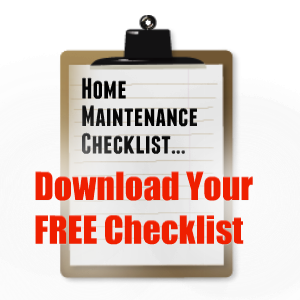 It's easier to do the little tasks regularly, rather than everything at once at the last minute. Home maintenance changes as the seasons change. Things you may have needed to do in May aren't going to be the same things you need to do in December. With a monthly checklist, it's easier to keep track of seasonal maintenance to your home while spreading out the tasks each month so you aren't overwhelmed with projects.
It's good to learn about preventative home maintenance so that you can feel more confident in your  home. I have created a PDF version of the checklist to make it easier for printing.
You can also get this checklist on the AmeriFirst website right http://www.amerifirst.com/yearly-home-maintenance-checklist or find out more in this video

Yearly Home Maintenance Checklist – kindly recommended by AmeriFirst Home Mortgage